With the coming of Fall, a series of conditions, such as temperature, humidity, sunlight, etc., have changed, making your sensitive skin feel uncomfortable and stressed out, even causing skin allergy. (That's because airborne allergens such as bacterial spores and pollen release histamine, a compound found in almost all tissues of the human body, causing nasal congestion, sneezing, runny, itchy throat, swelling of the eyelids, and so on.) So it is necessary to adjust your skin care routine, and use gentle, safe, even non-fragrance products, avoiding causing burden for skin.
Switching to Gentle, Soap-Free Cleanser
Gentle, soap-free cleansers are free of sodium lauryl sulfate (SLS). These are non-drying and preferred over those with SLS. They won't wash away healthy oils. Only wash your face with warm water.
1. La Roche-Posay Hydrating Gentle Soap Free Cleanser (13.52 fl oz.) $14.99
2. EltaMD Facial Cleanser (8 fl oz.) $23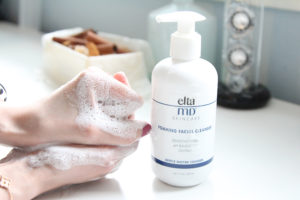 3. Fresh Soy Face Cleanser (5.1 fl oz.) $38

Choosing Ampoule, or Sensitive Skin Soothing Serum
Ampoule is a kind of completely preservative free, aseptic vacuum packaging skin care product, which is considered to be more concentrated version of a serum, think of it as a booster shot. They often contain a higher number of active ingredients and are used for a finite amount of time. The high nutrition, high tolerance and aseptic properties of the ampoule help your sensitive skin stay plump and smooth, keep it looking younger and give it firmness and elasticity.
1. Lancome Advanced Génifique Sensitive Serum (0.67 fl oz.) $78
2. Estee Lauder Advanced Night Repair Intensive Recovery Ampoules (60 capsules) $115
3. Martiderm Photo-Age 30x2ml Ampules $63.58
Facial Cream Featuring More Moisture, Simple Ingredient List and Non-irritating Formulas
Dry, cool weather means your skin needs more moisture than it did during the summer. Sensitive skin is recommended to choose gentle, fragrance-free, cream-based moisturizer. This kind of moisturizer hydrates and protects skin while reducing irritation and sensitivity.
1.  La Roche-Posay CICAPLAST BAUME B5 (1.35 fl oz.) $14.99
2. Eucerin Sensitive Skin Experts Q10 Anti-Wrinkle Face Creme (1.7 fl oz.) $9.99
3. CeraVe PM Facial Moisturizing Lotion for Nighttime Use, Ultra Lightweight Night Cream (3 fl oz.) $12.39
First Aid for Mild Skin Allergic Symptoms
Mild skin allergy symptoms like bumps, itching, redness, and rashes are some common in this transition season. Once you have allergic reaction on face, quickly cool the skin with ice or cold water, or directly spray the skin with mineral water (La Roche-Posay Thermal Spring Water Face Mist or Avène Thermal Spring Water). This is not only the first step to heal the skin, but also the most important step. Then put gentle face mask featuring soothing ingredients like aloe, snail, and propolis, crushed chamomile and calendula. (First Aid BeautyUltra Repair Instant Oatmeal Mask, Origins Dr. Andrew Weil Mega-Mushroom Skin Relief Face Mask, Avène Antirougeurs Calm Soothing Repair Mask) These 20 minute treatments will help to soothe and deeply nourish the skin and help it repair itself quicker. Mild skin allergy symptoms often go away on their own in a week or two. If your symptoms don't improve, talk to a dermatologist. Your dermatologist can get you started on a gentle skin care routine that will keep your skin looking and feeling good.
The shift from summer to fall 2018 may be subtle, but your sensitive skin will be the first to notice. Keep an eye out for dryness or sensitivity and move onto your winter skincare products at the first sign of change. Then go outside and enjoy the incredible foliage and seasonal beauty of fall.