Haven't you ever noticed that your glasses degree turns deeper and deeper in recent years? If you are suffering from eye strain, dryness, blurring, temple pressure, and headache, even these symptoms impact your work and daily life, why not use an eye soothing massager which gives you complete eye relief in a short time. Best for students, teachers, computer engineers, drivers, game fans, and smartphones addicts.

Let's Get Some Information About Eye Massagers
Eye strain can be a seriously exhausting and annoying thing to deal with. Eye massagers aid in the relief of painful migraines and annoying eye strain. These unique high-tech machines bring to your eyes the power of massage with infrared heat, air pressure, and vibration massage which increases the oxygen supply to your eyes improving overall blood circulation. They also help erase those dark circles caused by eye strain, improve your skin. Relax even further with the built-in music player. Select from Yoga inspired music, birds chirping, running waves, and many other ambient music and sounds, all of which promise to dive you deeper into relaxation. Eye massagers are portable and battery-powered, so you'll be able to transport them easily.
Best Eye Massagers Review 2018
Breo iSee4 Wireless Digital Eye Massager $149.99 (Was $219.99)
Not only is the iSee4 the top-of-the-line of portable eye massagers, it is also 180º foldable. To aid in the portability and storage, it also comes with its very own storage/carrying case, as befitting such an innovative and revolutionary product. The iSee4 Massager adopts intelligent air pressure, vibration, and heat compression massaging technology. The unit also comes with a built-in music player with pre-recorded nature sounds to further relax you.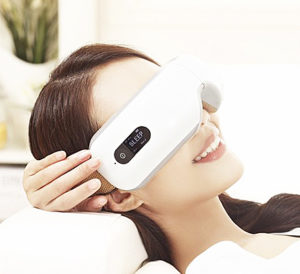 Breo iSee108 Eye Massager $44.99 (Was $69.99)
Perfectly affordable, the iSee108 has 22 finger-like massage contacts made from high purity silica gel that have no side effects on the skin. A small engine controlled by a computer IC chip operates the vibration massage, which makes it possible to produce a massage effect at various speeds.
Breo iDream3 Eye & Head Massager $329.99 (Was $449.99)
So what makes this unit so special? Glad you asked! The iDream3 adopts air pressure, vibration, and heat compression massaging technology to massage the regions around the head and eyes (excluding the eye and eyelid). It comes with a wireless remote control and built-in MP3 player. You can now enjoy pre-recorded spa music while massaging, or download and listen to your favorite songs. It also features a see-through visor that makes it easier for you to operate the controller.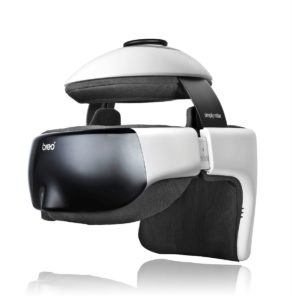 Zadro Eye & Temple Massager $119.99
The eye massager is lightweight and features a specially padded and heated mask that provides a comfortable fit. It features 11 different massage settings, and 5 types of air pressure. You can program your ideal massage, air pressure, and heat settings to create a personalized massage.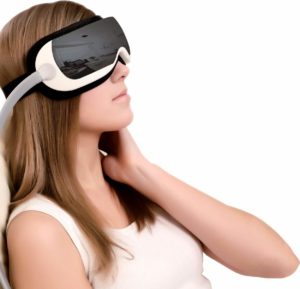 Panasonic EH-SW51-P Eye Care the Eyes Este Refrain Type Pink $77.42
With plenty of steam fluctuating, a warm feeling of sharpness continues, and it is possible to replenish moisture to every corner of the eye that tends to dries. About twice the steam, intensive moisturizing of the eye.
Tips for Relieving Eye Strain and Maintaining Eyesight
Besides using eye massager to relieve eye fatigue, increasing the resolution of your screen (CRT) and reducing ambient lighting may be helpful. Adjusting the distance of your eyes from both the computer screen and your reading material may also relieve your symptoms. Changing brightness and contrast levels on your monitor and increasing text size can also be advantageous. Rather than keeping your eyes focused on the computer screen for hours at a time, interrupt this process every 15 minutes by briefly looking out of the window or around the room.
These food are good for eye health and eyesight: Green leafy vegetables like spinach, kale, and collards; Salmon, tuna, and other oily fish; Eggs, nuts, beans, and other nonmeat protein sources; Oranges and other citrus fruits or juices Oysters and pork.