What is the best solution to save space, show off your things, while decorating your room? Nothing else can compare to a well-designed wall shelf to suit your decor and needs. Wall shelves allow you to create a customized storage and display space for photographs, collectables, books, evaporative diffusers, trinkets and treasures. It is a sleek, contemporary, minimalist way to dress up your empty walls.
There is a variety of floating wall shelves designed for farmhouse decor, coastal decor, and vintage decor. As they have to be coordinated with your furniture, choose the right style and correct size.
Browse through these unique wall-mounting shelving ideas, and line your walls with functional storage and unique design.
Franklin Shelf (Maple, Cherry, Walnut) $324.99
The award nominated Franklin Shelf is a 90 degree corner shelf. The smooth wooden finish of this shelf will make a great addition to any corner, table, or desktop. Its sturdy build allows it to be hung or stand on its own.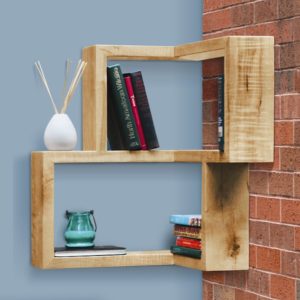 CB2 Travertine Stone Shelf $69.95
Solid travertine stone shelf and champagne-colored brackets make a striking pair. Offers stylish wall support for decorative accessories and such.
CB2 Matte Black Large Floating Shelves Set of 3 for $249
Sculptural industrial set composes geometric gallery in raw iron. Three different dimensions architect an arrangement of your design: scatter open and airy across the wall or overlap as concentrated grid of right angles. Displays objects, nooks books, shelves wine. Arresting empty, too. Inset mounts at top corners attach easy to wall.
CB2 Corner Block Wood Shelf $299
Corners become attractive, usable space with this clever configuration of cubbies. Solid acacia wood tower alternates small and large cubes/shelves creating tons of storage space. Designed to sit either side up, depending on your space. Shelves double up to for more storage with minimal footprint.
Country Wall Shelves add 2 shelves and 7 hooks to your storage space. The decorative piece features the blades of a windmill or the spokes of a wagon wheel on the sides. You can hang keys, leashes, jackets and more on the hooks along the bottom.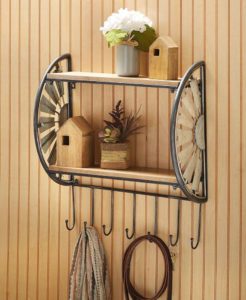 Ridgeway Corner Wall Shelf $36.35
Creatively designed, the Ridgeway Corner Wall Shelf is a great option to spice up the style quotient of your home. Simple yet chic, this stand is crafted precisely to fit in any corner of the room.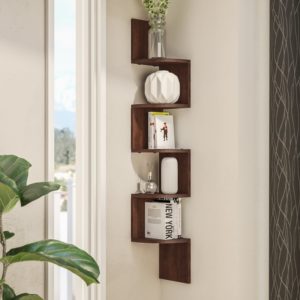 LiliLite is a bookshelf, reading light and bookmark in one.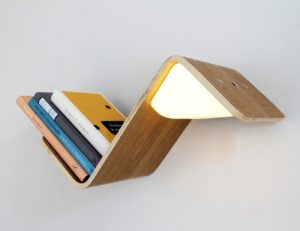 CB2 Bay Antique Brass Circle Wall Shelf $199
Iron-framed wall shelf is the perfect marriage of form and function thanks to its unique round shape and antique brass finish. Display photos, books, objects and more on the staggered shelves.